Authentic Beauty Concept Christmas 2022
Limited Edition Gift Sets From ABC At Natural Hair Salon In Lisburn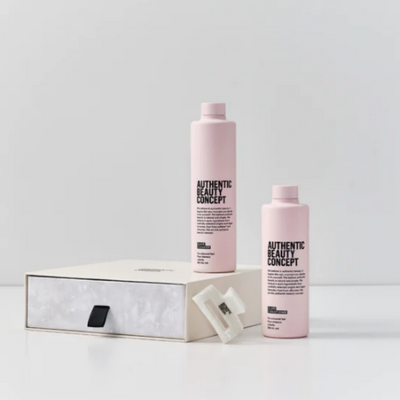 The new and exclusive Gifts Sets from Authentic Beauty Concept are now available and bring a moment of beauty and mindful gifting to your loved ones.
Authentic Beauty Concept are dedicated to bringing the best to the environment, making sustainability promises, including the product bar which is available in our County Atrim Salon, so you can reuse your shampoo and conditioner packaging, removing the wasteful nature of hair care.
As well as feeling good by gifting Authentic Beauty Concept products, this premium set is packaged in a beautiful box which can be reusd as a jewellery box.
The sets are available with 1 Cleanser and 1 Conditioner from either our Glow, Hydrate or Replenish range, along with our beautifully pearlescent and sustainable hair clip.
Call us on 028 9260 5597 for more information on our Authentic Beauty Concept Gift Sets, or pop in the salon to pick up your Christmas gifts!